| | | | |
| --- | --- | --- | --- |
| Poster: | dead-head_Monte | Date: | February 11, 2011 02:42:56pm |
| Forum: | GratefulDead | Subject: | Re: He's Gone (?) |
Why did President George W. Bush -- a.k.a. "Dubya" -- introduce Nukes (Nuclear Energy Technology) into Saudi Arabia?
Ed Markey Question on Bush-Saudi Nuclear Deal
- YouTube clip
Best Pals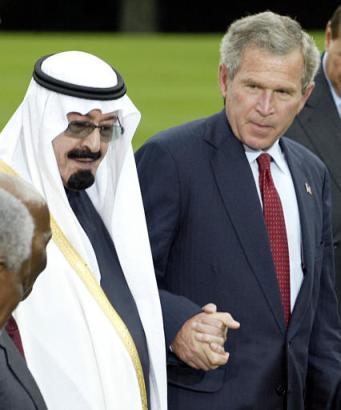 Closing the Deal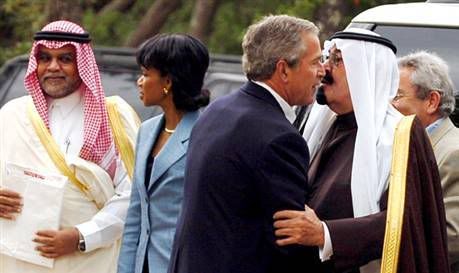 Mission Accomplished

| | | | |
| --- | --- | --- | --- |
| Poster: | rastamon | Date: | February 11, 2011 03:19:05pm |
| Forum: | GratefulDead | Subject: | Re: He's Gone (?) |
because of his love for money & power...why did Bill & Al's regime allow China the ability to aim missles?
If it's just Hughs fault, no doubt a bunch of them went to prison, aye? Here's just 1998 from this site >>
http://www.wisconsinproject.org/countries/china/missile-miles.htm
January 1998: China's Defense Minister, General Chi Haotian, promises U.S. Secretary of Defense William Cohen that China will not sell any more C-801 and C-802 anti-ship cruise missiles to Iran.
April 1998: China rejects an American proposal under which China would become a member of the Missile Technology Control Regime in return for greater access to American space technology.
May 1998: The Central Intelligence Agency (C.I.A.) reportedly believes that China has 13 of its 18 CSS-4 long-range strategic missiles pointed at U.S. cities.
July 1998: China reportedly tests a rocket motor for the DF-31 ballistic missile at the Wuzhai Space and Missile Test Center. The test occurs during President Clinton's trip to China.
July 1998: It is reported that China produced six new CSS-4 ICBMs in the first four months of 1998 and is expected to build two more.
December 1998: The Washington Times reports that China recently delivered missile technology to Iran, including telemetry equipment that could be used in the testing of medium-range missiles such as Iran's Shahab-3.
December 1998: A secret Pentagon report concludes that Hughes Space and Communications, without proper authorization, gave China vital technological assistance crucial to the successful launchings of Chinese ballistic missiles and satellites. The report concluded that Hughes provided a "defense service" to China that violated U.S. rules against helping Beijing make better rockets and missiles.
| | | | |
| --- | --- | --- | --- |
| Poster: | dead-head_Monte | Date: | February 11, 2011 04:52:38pm |
| Forum: | GratefulDead | Subject: | Re: He's Gone (?) |
Right-on, Rastamon. That's what I'm saying, Exactly! We Agree 100%, don't we? In short -- everyone who's looking back -- measures
this
WORSENING
decline
"during the past 30 years." My 30-year decline point is best made by both me and GD in
Matt Vernon's pick for my Staff Request for a Spotlight Item from the 80s
.
Re: weapons sales
Obama is as much as a War Hawk as Reagan, Bush, Clinton, and Dubya. Below is a repost from July 26, 2009.
SDH and me making some good points
.
SDH: "My son's chances of getting killed in Iraq are now significantly less then they were 4 years ago. Still nervous about it (he ships out next month for tour #2), but what can you do?
Thanks, George, good call on that one. God knows the world is now a safer place thanks to your "mission accomplished".
Hey, are things great now? Not by a long shot, but alot of what is going wrong now started long, long ago. Time to pay the fiddler."

Me: "It is immoral and unacceptable that only a few US families - the military families - pay the total US human costs for our senseless wars now. SDH, I am honored to be on this forum with you.

Obama was a huge mistake, imo. Biggest mistake - way too many voters (individuals and groups) got behind Obama and voted for him without really demanding anything from him. People simply accepted him 100 percent. Perhaps The Dead's stand behind him epitomized this problem, as an example.

Evidently, the only promise Obama made and kept is the troop build-up in Afghanistan. I was opposed to that. Now we have Obama's War in Afghanistan and Pakistan — AFPAK. How many of you have even heard the name, AFPAK? Oops, Pakistan and India are nuclear powers and hate each other. They've fought 4 wars in the past 60 years. Don't they still have a conflict in Kashmir?

The Obama administration just took major steps this week toward helping several major US defense contractors sell sophisticated US arms and nuclear technology to India. Increased US-India nuclear cooperation is stoking fears the US is escalating India's arms race with Pakistan. During her visit to India, Secretary of State Hillary Clinton signed an arms deal that could prove a boon to Lockheed Martin and Boeing. Both firms are in the running to sell India 126 fighter jets at an estimated cost of $12 billion. It is the most lucrative fighter aircraft deal in fifteen years. Richard Kirkland, president for Lockheed Martin in South Asia, said, quote, "This signals an era of increased defense cooperation between the United States and India."

"India is also moving forward on a deal for US companies to build a pair of new nuclear power reactors. The plants will likely be built by General Electric or Westinghouse Electric at a cost of $10 billion. Before any contracts are signed, the US companies are asking the Indian parliament to pass legislation limiting the liability of the companies in case of nuclear accidents."

"This is going to aggravate Indian-Pakistani tension, certainly, because India is now seen as a long-term strategic partner, whereas Pakistan is an ally, the role is really limited to fighting terrorism. And I think Pakistanis are afraid that once those objectives are accomplished or the US has done whatever it needs to do in Afghanistan, that they won't matter much anymore, as happened at the end of the Soviet occupation of Afghanistan in 1989. So I think this strategic cooperation with India has the potential to aggravate relations with Pakistan."

"Already, the nuclear deal—Pakistan wanted a similar nuclear deal, and the United States said, "No, you have A.Q. Khan. You're a proliferant country." And Pakistan turned to China. And the acquisition of the planes really isn't much to do with Pakistan or China, because India cannot fight a war with China or Pakistan, because both are nuclear-armed states. India wants to stride on the world stage as a major power and has seen its road to that stage as acquiring more and more sophisticated military equipment, a blue water navy, a triad for its nuclear weapons, missiles based in the ocean that are capable of delivering nuclear weapons, and so on—all the hallmarks of what I would say is a twentieth-century power."

---

I would like to see The People being represented - not corporate interests and greedy shareholders. We all need to negotiate and make Peace with our brothers and sisters. We are on The Edge and way too close to The End. Why fuck with that?
Re: secret deals, technology transfers, and out-sourcing
Below is a repost of the "
Destroying the Launching Pad
" thread from last month.
Where have you been these past 30 years? It's all out-sourced now. Manufacturing stuff is finished in the USA. It's over - as far as the USA being relevant in the world's future.

I recommend you first call, 1 - 800 - Chi - Nese, and Dish Network. Your rocketry and space futures rest with the China National Space Administration - (CNSA). Did you know CNSA was helped into business by EchoStar and Dish Network in 1995? Dish Network and Lockheed Martin Corporation helped the Chinese to launch EchoStar's first satellite into orbit - at USA-taxpayer's expense. The Chinese (CNSA) are given free Tech-Support, paid for by USA taxpayers, right?

EchoStar 1, a BSS Lockheed Martin AS-7000 satellite, was launched successfully from the Xichang Satellite Launch Center in China on a Long March CZ-2E launch vehicle on Dec. 28, 1995. It is orbiting at 77 degrees West Longitude. This satellite is leased to EchoStar from DISH Network for use for EchoStar's Dish Mexico service.

Orbital Location: 77° West Longitude
Launch Vehicle and Provider: China Great Wall Industry Corporation
Launch Location: Xichang Satellite Launch Center, China
Spacecraft Manufacturer: Lockheed Martin
Spacecraft Series: AS-7000
Launch Weight: 7,246 lbs. (3,287 kgs)

Next, you should try calling 1 - 800 - Kazakhstan. Dish Network and Space Systems Loral are giving Kazakhstan free Tech-Support, at USA taxpayer's expense, right?

Dish Network's rocketry crew at Baikonur Cosmodrome, Kazakhstan


EchoStar 4, a BSS Lockheed Martin A2100 satellite, was launched successfully from Baikonur Cosmodrome, Kazakhstan, on a Proton launch vehicle on May 8, 1998. This satellite provides service for EchoStar's Dish Mexico service.

Orbital Location: 77° West Longitude
Launch Vehicle and Provider: International Launch Services
Launch Weight: 7667 lbs. (3,478 kgs)
Beginning Power: Greater than 10 kW
Reflector Antennas: 1 Receive (40"), 2 Transmit (108")

EchoStar 8 was launched successfully on Aug. 21, 2002. The BSS satellite is located at 77 degrees West Longitude and is for EchoStar's Dish Mexico DTH service.

Orbital Location: 77° West Longitude
Launch Vehicle and Provider: International Launch Services
Launch Location: Baikonur Cosmodrome, Kazakhstan
Spacecraft Manufacturer: Space Systems Loral
Spacecraft Series: FS-1300
Launch Weight: 10,274 lbs. (4660 kg)
Beginning Power: Greater than 10 kW
Reflector Antennas: 1 Receive (47"), 2 Transmit (86"), 2 Spot • Transmit (110")

ILS Successfully Launches the EchoStar XV Satellite for DISH Network - July 11, 2010

BAIKONUR COSMODROME, Kazakhstan--(BUSINESS WIRE)--International Launch Services (ILS), a leading launch services provider for the global commercial satellite industry, successfully carried the EchoStar XV satellite into orbit today on an ILS Proton for DISH Network L.L.C., the fastest-growing pay-TV provider in America. EchoStar Satellite Services L.L.C., a subsidiary of EchoStar Corporation (Nasdaq: SATS), manages DISH Network's space programs and will begin in-orbit testing of the satellite later this month.

The ILS Proton launched from Pad 39 at the Cosmodrome at 00:40 local time today (10 July, 14:40 EDT; 18:40 GMT). After a 9 hour 13 minute mission, the Breeze M successfully released the EchoStar XV satellite into geosynchronous transfer orbit. This is a high energy orbit that will enable the satellite to have approximately 20 years of service life. The EchoStar XV launch was the 24th successful consecutive Proton launch in 24 months, and the second ILS Proton launch of a DISH Network satellite this year.

The satellite was built by Space Systems/Loral (SS/L) on the flight-proven 1300 platform, weighing 5,521 kg at separation. EchoStar XV, located at 61.5 degrees West, is poised to provide expanded services, including HD programming, for DISH Network's more than 14 million direct-to-home television subscribers. EchoStar XV was the 15th SS/L satellite launched on an ILS Proton.

This was the 358th launch for Proton since its inaugural flight in 1965, and the 61st ILS Proton launch overall. The Proton Breeze M launch vehicle was developed and built by Khrunichev Research and Production Space Center of Moscow, one of the pillars of the Russian space industry and the majority shareholder in ILS.

"The fact that this is the second ILS Proton launch for DISH Network this year shows the strength of our relationship with our customer, EchoStar. The ILS and Khrunichev team continues to be committed to expanding DISH Network's business, and are proud to have launched EchoStar XV on schedule, less than four months after we launched EchoStar XIV," said ILS President, Frank McKenna.

"Today's launch of EchoStar XV was executed well ahead of our original schedule. This schedule assurance is what we rely upon and what sets ILS apart. The performance of the Proton Breeze M launch vehicle provides increased performance—and this results in a longer spacecraft mission lifetime. As EchoStar and our customer, DISH Network, continue to grow, we look forward to future launches on ILS Proton," said Rohan Zaveri, vice president of Space Programs for EchoStar.
This post was modified by dead-head_Monte on 2011-02-12 00:52:38
| | | | |
| --- | --- | --- | --- |
| Poster: | rastamon | Date: | February 12, 2011 03:56:11pm |
| Forum: | GratefulDead | Subject: | Re: He's Gone (?) |
hmmm...we probably do agree alot, in spite of myself.
We might even agree that Obama and most before him including Reagan, have a crappy border policy of not really enforcing immigration laws.
Everyone immigrating here needs to be screened for disease, gang affiliations, crimminal record and then should have the attitude of contributing to their NEW country. I dare to say (no proof of course) that LOTS of US Border officials, law enforcement & politicians are being bribed by mexican drug cartels. NO DOUBT!
Ooops, a Mubarak thread. He's gone! now what?